Why Enroll in a Course?



Courses give you an opportunity to learn new skills.
They give you access to qualified Craftspeople who can give you unbiased information about Tools, Equipment & Techniques that are difficult to get from reading a book or listening to a salesperson.
Courses allow you to learn, step by step one week at a time,
go home and practice and come back next week and
quiz the Teacher about any problems you are having and be able to correct them.
Courses give you an insight into how difficult a Skill or Project may be and how long it may take to learn or complete.
Courses allow you to mix with other people who are trying to achieve the same goals of learning new Skills or creating particular forms.
Courses, although sometimes expensive initially, will often save you money in the long run, as you learn skills that you can repeat at home, know what Tools & Equipment to buy the first time and where to buy quality Timber, Glues, and Hardware Fittings that will make your pieces last longer than you do.

Feature Woodworking Course
Starting January 2019

Intro Router Course  - $455.00
  Saturday Afternoon – 1.00pm - 5.00pm
  6 Sessions –

12/1, 19/1, 2/2, 9/2, 16/2 & 3/3
Introductory Router Course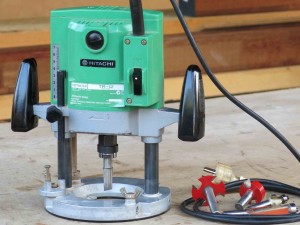 This Course will teach students how to
Safely Operate a Portable Router
both by Hand and in a Router Table
Individual Skills taught:
Changing of Router Cutters,

 Setting correct depths,

Router Housings, Rebates and Mould Edges,

Shape to a Template,
Sand Project,

Glue & Assemble Project,
Router Back to size and shape,
 Screw Back into position.
    If you are interested please request a Course Outline or
refer to our Woodworking Courses Page for Costs, Times
and more Course listings.